Timmons of Long Beach Toy Jam and Auto Show 2019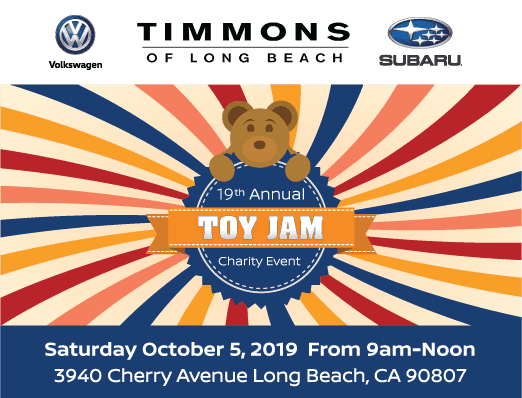 19th Annual Toy Jam & Annual Car Show
Saturday, October 5th
Timmons of Long Beach
3940/3950 Cherry Ave
Long Beach, CA 90807
Toy Jam is an amazing charitable event for anyone with a loving heart for children with life-threatening illnesses. This event happens once a year and is a great way to brighten the day for these kids.  They go through some scary procedures, and a toy or stuffed animal may just be what they need to face those fears.
How can you help? Bring in a new toy on or before October 5th. Anyone who wants to contribute in this charitable event can bring a new toy to Timmons Volkswagen before 10am October 5th. Those who are present for the day of the event are welcome to food, refreshments, door prizes, and a chance to win some amazing raffle prizes.  All are welcome to participate in the police escort from Timmons Volkswagen to Millers Children's Hospital to present the gifts to to the children.
How can you make a kid's day? Participate in the police escort to the hospital to present the gifts to the kids and their families. The kids come out and they love seeing the cars… they mean even more than the toys to some of the kids. Last year I was able to witness this first hand when a young boy was able to sit in his dream car…. He and his dad were able to forget about the hospital for a little while and just enjoy the moment.
CONTRIBUTE
Bring in a new toy, coloring books, stuffed animals, etc. We will be accepting your generous donations from September 1st through the morning of the event on October 5th.
AUTO SHOW
Show your pride and sign up now for our Annual Auto Show. Any Volkswagen or Subaru is welcome to enter. Then join us in our police escort to the hospital to present the toys to the children.
Enter your ride into the Timmons Auto Show through social media post, email me jennifers@timmonslongbeach.com, or call Jenn at 562-595-4602.
$10 entry fee (goes to the kids) and one new toy. 1st, 2nd, and 3rd place prizes for best Subaru and best VW.
RAFFLE
Enter to win some amazing prizes. Raffle tickets are $5 each, or as we like to say 2 for $10 or 4 for $20. Last year we raffled off Disneyland passes, plane flights and more!
Great Raffle Prizes Donated (so far) by:
Timmons Family
Sweaty Mommy
The Lab Learning Space
Dealership Services Direct
KLOS- Meruelo Media
ENTERTAINMENT
K-EARTH 101 will be here from 9am-11am!
Find the K-Earth crew and win some pretty cool swag and giveaways.
Fun | Music | Prizes
Ticket Giveaways to Knott's Berry Farm and the Aquarium of the Pacific

Car show entry fee is just a $10 donation and a new toy.
RSVP early and receive a free entry into the raffle. It is a great event and I hope you help us make it the best one yet!
Please e-mail or call me to RSVP… want to be an overachiever? We are always looking for volunteers to help with the festivities. Plus, don't forget to forward this invite to fellow VW owners.
Contact Information:
Jennifer Sauer
JenniferS@timmongslongbeach.com
562-595-4602