Holiday Tree Transportation Made Easy with VW SUVs
The Holiday season is officially here, and for many, that means it's time to get the perfect tree to decorate and fill your home with that quintessential holiday smell and cozy atmosphere. But, let's be honest, getting your tree home to reach this point can be a real hassle.
What if we told you, it doesn't have to be such a drag? We've put together a few tips and tricks to make transporting your tree in your VW SUV easier and less stressful. Because after all, holidays are for spending time with family and friends, not stressing over getting your tree home.
Whether you prefer strapping the tree to your car's rooftop or are looking to put its interior cargo space to use and bring your tree home that way, look no further. Follow these quick steps to get your tree home easily and securely this holiday season.
Prepping Your VW SUV:
No matter how you bring your tree home, you want to make sure it's secure, safe and of course, won't leave any unwanted scratches behind. So, make sure to pack extra blankets, ratcheting straps, reflective items (if you're driving at night) and protective clothing to keep your skin and hands (utility gloves are key for the latter) from getting poked by pine needles.
Transporting your tree in your SUV's interior:
First, remove all unnecessary items from your vehicle. If you drive an ID.4 EV, the underfloor storage space is a great place to store smaller items so that they don't take up trunk space.⁠ Once you have cleared everything out, lay down a blanket or tarp to catch any dirt, loose pine needles or sticky sap that shakes loose during the drive. Your future self will thank you big time when clean-up is a breeze.


Transporting your tree on your SUV's rooftop:
Equip your vehicle with cross bars to prevent any potential damage to the paint and sunroof and to give you a secure base to tie your tree to.⁠ When packing straps or ropes to secure the tree, avoid bungee cords—they're flexible but won't always keep your tree nice and snug. Strong ratcheting straps and thick, durable ropes offer more security and will keep your tree in place more effectively.
Make a List, Check it Twice:
Before you pick out your dream tree this season, be sure to make a list of thorough measurements of your roof space (if you're transporting your tree via rooftop), interior cargo space (if you're bringing it home inside your vehicle) and of course, your home. After all your work to get it there, you want to make sure it at least fits inside your living room.
Ultimately, the size of your SUV will play a role in determining how big a tree you can safely and securely bring home. The 2023 Volkswagen ID.4, for example, has a cargo volume of up to 64.2 cubic feet (with rear seats folded), making it a compelling choice when it comes to storage space – a quality that especially comes in handy during this time of the year!
With your VW prepped and your measurements in hand, it's time to pick out your tree.
Loading Your Tree:
So, you've picked out your tree and are ready to take it home. Now what? First things first, ensure it's wrapped tightly to limit loose branches and needles. Many tree farms have nets available to prevent potential scratches from damaging your car's roof or its interior, so make sure to ask for one. If they don't have one or if you want an extra layer of protection, give the tree a quick shake to get rid of any loose pine needles or branches and then wrap it in an old blanket or tarp.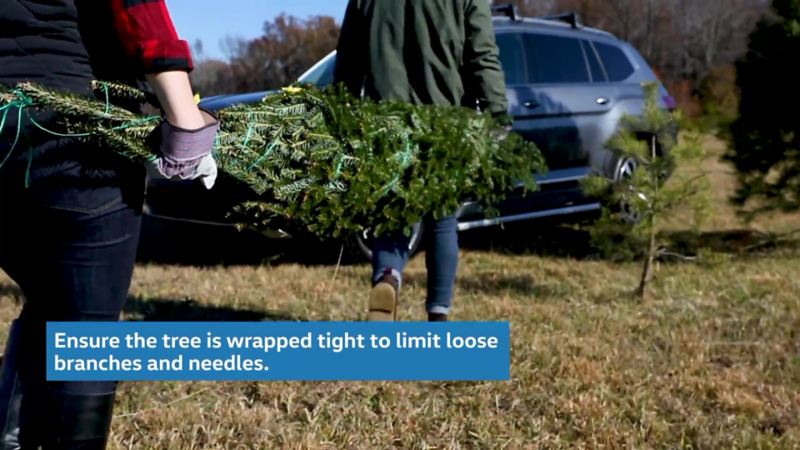 Transporting your tree in your SUV's interior:
Fold down the backseats to get the most cargo space. When loading in your tree, place it inside trunk-first and get it as far up as you can, ideally all the way until it's against the back of the front passenger seat. This will help it stay in place and avoid unnecessary sliding. To secure it properly, holster the tree to your vehicle's interior anchor points with ropes or straps.
Transporting your tree on your SUV's rooftop:
Use ratcheting straps or sturdy ropes to fasten it to the cross bars.⁠ Position the tree so that the trunk is facing forward to keep the wind from damaging it and to reduce the drag while you drive.
Know Before You Go:
Transporting your tree in your SUV's interior:⁠
With the straps tight and your tree secure in your trunk space, make sure you can fully see out the front and back windshields and that your view is not restricted.

Transporting your tree on your SUV's rooftop:
Before you drive home, it never hurts to give the tree and straps a firm tug (or two!) to make sure it's properly secured. If the tree budges, pull the ratcheting straps tighter until it stays in place. The last thing you want is for it to come loose while you're driving and become a danger for you or other drivers on the road. If possible, avoid transporting it when it's dark out. However, if that's not an option, make the tree as visible as possible to other drivers by sticking reflective tape or a reflective flag onto the straps/blanket wrap. 
Quick Car Clean-up:
Once you get home, and unload your tree, take a few minutes to check for any tree sap or residue left in/around the car. With the blankets you laid out, this part should be quick and easy. If you do find any spots however, clean immediately to avoid any stains setting in.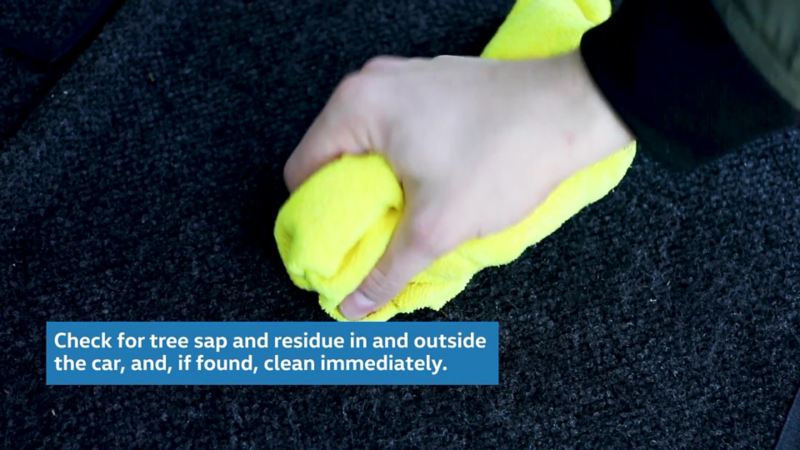 Thank you to the VW Newsroom for this article
1. Proper installation required. See dealer for details. All roof-rack system attachments require the base carrier bars. All accessories sold separately.