19th Annual Toy Jam & Annual Car Show
Saturday, October 5th
Timmons of Long Beach
3940/3950 Cherry Ave
Long Beach, CA 90807
Who has more love for their ride? VW owners or Subaru owners?
How can you help? Bring in a new toy on or before October 5th.
How can you make a kid's day? Participate in the police escort to the hospital to present the gifts to the kids and their families. The kids come out and they love seeing the cars… they mean even more than the toys to some of the kids. Last year I was able to witness this first hand when a young boy was able to sit in his dream car…. He and his dad were able to forget about the hospital for a little while and just enjoy the moment.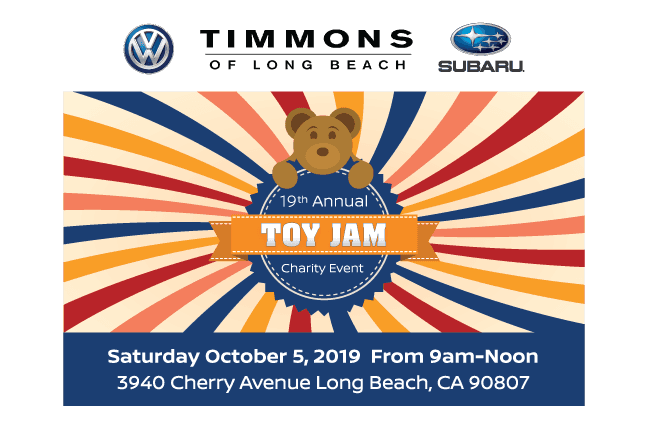 As a Subaru owner several times over, I'm not going to lie, there were way more VW's last year. I want our lot filled with Subarus this year and you can help make that happen. Car show entry fee is just a $10 donation and a new toy.
RSVP early and receive a free entry into the raffle. It is a great event and I hope you help us make it the best one yet! Subiefest isn't until the following week, so no excuses not to be here to show your Subie Pride!
Please e-mail or call me to RSVP… want to be an overachiever? We are always looking for volunteers to help with the festivities. Plus, don't forget to forward this invite to fellow Subaru owners.
Contact Information:
Jennifer Sauer
JenniferS@timmongslongbeach.com
562-595-4602