Employee Spotlight: Sandra – A Timmon's Treasure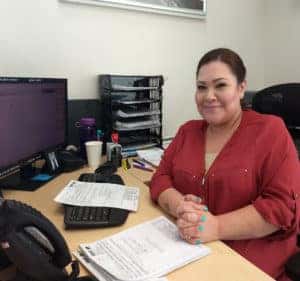 A fresh face after a good night's sleep, a frothy warm caffeinated beverage to perk-up her senses, hair shampooed and brushed to perfection, and a brand-new gel coat to accompany her manicured nails. One last check in the mirror before she leaves her home where her 15-year-old son and beloved husband are fast asleep during the twilight hours of the early morning. Her chosen dress pants and blouse are immaculate and the smell of shoe polish and fresh leather lingers in the air before abruptly spinning on the heals of her new ankle boots, grabbing her purse, and walking out the door. She finds a certain pleasure in leaving earlier than most, because she wants to be the first person to arrive at work and start her day as the voice of two of the largest car dealerships in Southern California.
If you have ever done business with or made a phone call to either the Timmon's Volkswagen or Subaru stores, than chances are you have already met Sandra. For over eight years customers have been greeted by her melodic and unchanging voice as they are asked for instance to, "Press one for more options" or "Press two for the Service Department". A professional telecommunications specialist, Sandra takes immense pride in making sure her voice is well cared for and therefore ready to greet the hundreds of daily customers she encounters both on and off the phone. When not working tirelessly perfecting the store's recorded phone prompts, Sandra is often found hard at work scheduling appointments, greeting incoming gusts of the dealership, and helping to maintain the cleanliness of the entire front-end department for both stores while maintaining her naturally friendly and outgoing personality.
Later that morning Sandra is joined by her husband who is also an employee for both Timmon's stores and who Sandra regards as her rock and her biggest source of emotional support. We here at Timmon's like to think of Sandra as our own source of emotional support and inspiration. One woman's passion to go the extra mile for the job she loves, working for the dealerships she adores and for the customers she cares for is enough to inspire the hundreds of her fellow employees who are proud to call her their co-worker. Thank you Sandra for an incredible eight years of outstanding service with many more to come. You inspire us!